How to open a Coinmotion account
Bittimaatti ATMs can be used by citizens of which has bank account in following countries: Austria, Belgium, Bulgaria, Cyprus, Croatia, Czech Republic, Denmark, Estonia, Finland, France, Germany, Greece, Hungary, Republic of Ireland, Italy, Latvia, Lithuania, Luxembourg, Malta, Netherlands, Poland, Portugal, Romania, Slovenia, Slovakia, Spain and Sweden, the 3 EEA countries of Norway, Liechtenstein, Iceland, and also Switzerland, Monaco, and UK.
More information Coinmotion Help Center
To be able to use Bittimaatti you need to open an account at coinmotion.com if you don't have a Finnish bank account. Finnish bank account users can use ATMs with their bank credentials here
Create an account
Therefore you need to register for their service. You can start the registration by clicking "Register" on the landing page or by clicking here.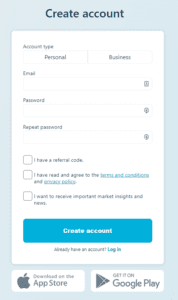 Start selecting the account type by selecting the Personal option. Add your email and password details. Business option is only for business users. This process will take more time to get confirmed and you may not have your account at your use in the time you wish to operate Bittimaatti ATMs. If you need to change your email please contact [email protected].
Identity confirmation process
After registration you must fill out your customer details. You'll find a link: confirm your identity to begin the process from My Wallets -page at your coinmotion account.

Verify your phone number
You need to verify your phone number. Select the correct country code, add your phone number, and select "Verify with SMS". Insert the code you've received by SMS to the corresponding field. Number and email address can be changed later through coinmotion support.
Add personal information
After this you must fill personal information to the form, such as your date of birth and place of residence.
Business account is for business users but will prolong the time for account confirmation and the start to be able to use Bittimaatti. Please note that it's not possible to change the type of the account at a later stage.
Fill your email address and password to the first page. Read and accept the terms of service and privacy policy.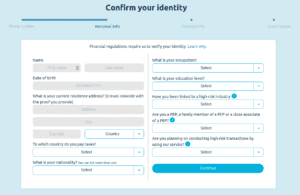 Need help in registering call Bittimaatti helpdesk +358600 15521 (0,68€ + local network or mobile service per minute)
Customers outside Finland will be identified with SumSub -service
After you've registered your account you will enter the verification process of SumSub. The process consists of three different stages. If you are not Finnish citizen or have a Finnish bank account.
1. Proof of identity
Here we will need a copy of your passport of your national ID. Please note that driver's licenses are not accepted.
2. Proof of residence
This document can be one of the following, other documents will not be processed. The documents that you provide must not be older than 3 months.
Bank statements

Utility bills

Internet/cable TV/house phone line bills

Tax returns

Council tax bills

Government-issued certificates of residence, etc.
Examples of documents that are NOT accepted as proof of residence: 
National ID

Mobile phone bills

Medical bills

Receipts for purchases

Insurance statements
3. Selfie
Here the platform asks you to take a selfie so that we can be sure it's really you who's about to verify the account.
You can do the verification flow on your desktop or mobile, and change between the two in the middle of the flow as well. Make sure the photos uploaded are clear and whole, so that the information is easily read and there's no cut corners.
4. Manual checks
All foreign than Finnish accounts will go through manual checks, which is why the verification process will take a while. This may mean a 1 to 2 days process throughput.
5. PEP
If you are a politically exposed person or you have close relations to one it may affect your account verification throughput time. Or can be a reason for declining the account verification. 
6. Boost your account verification
After registration and verification process send additional request with your registration email to [email protected] and request support with header account verification for processing assistance. This email may accelerate the process but does not quarantee the succesfull registration.
Our customer service responds to messages on working days between 09-16. The phone service is available on weekdays from 9 to 16 from the number +358 600 15521 (0,68€/min + local/mp), you can reach Bittimaatti's english support by choosing an option 2.